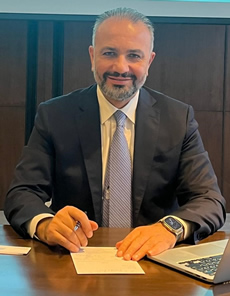 Message From Our Founder and Chairman
We have come a long way from a small team relentlessly working on every opportunity at hand 25 years ago, to a 750 people conglomerate today. It brings me great pride to have experienced this growth and expansion which we owe to our team's integrity, ambition and hard work. We have thus become an investment group active in a wide range of industries, including manufacturing, trading, mining and logistics, and operating in different countries.
The commitment of all the people working in our Group is to offer the best to our customers while maintaining the highest levels of ethics and professionalism. And in all parts of the business, we constantly seek to ensure stakeholder satisfaction.

Our mission from the beginning and will continue to be to:
Manage a portfolio of diversified businesses through our subsidiary companies in the Fertilizers sectors (manufacturing and trading), wire and low, medium & high voltage cable production, mining and others…
Provide corporate support and services to our trading and production entities from financial planning, networking and business development, risk assessment, regulatory affairs, compliance, employee development and media relations.
Go the extra mile to deliver an outstanding customer experience by offering our customers the best of our experiences while displaying a courteous, helpful attitude always.
Provide a professional work environment and career development opportunities to our employees.
We envision to become a worldwide leading diversified Group, maximizing shareholders' values, and enabling economic development globally.